by Judi Moise
|
Posted: August 1, 2018
|
Skin Care Products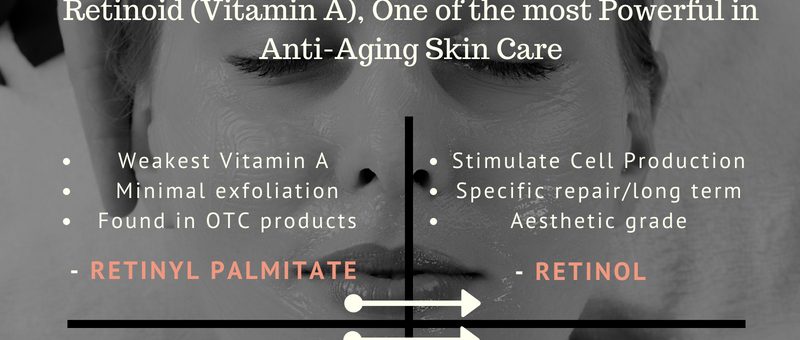 The Rave on Retinoid
The secret to effective skincare is knowing what's effective. Vitamin A is essential to achieve, as I call it, the ACE Face (Vitamins A, C & E). These vitamins serve to exfoliate, rejuvenate, and restore the skin. Let's dive into the secret of retinoid.
Retinoid is an umbrella term to describe all forms of Vitamin A. It comes both naturally and synthetically produced derivatives. Retinoids has been in the dermatology game for more than 70 years. Retinoids are very well known to influence a variety of cellular processes, such as skin growth, function, and balancing the skin barrier. Trans Epidermal Water Loss (TEWL) is minimized to maintain the skin's hydration. Retinoids is used to treat skin conditions such as plaque psoriasis, acne, oily skin, actinic keratosis (scaly, precancerous skin lesions) and photoaging from UV rays. Retinoids can break down after sun expose that could lead to free radicals. Even though sunscreen is needed daily, I suggest using it as a night treatment to be more effective.
The Benefits
The Science
It is important to note that Vitamin A cannot be synthesized (produced) by the body; hence it needs to be supplied to the body in a such as topical products, vitamins and food. All retinoids are originally derived from beta-carotene. It's converted to retinyl esters (storage form) then to retinol (transport form). The retinyl esters are transformed to retinol (metabolized to water-soluble retinoic acid) before absorption from the intestine and back to retinyl esters for storage in the liver. In the plasma, retinol is bound to plasma-retinol binding proteins that which stimulates collagen, making new skin cells.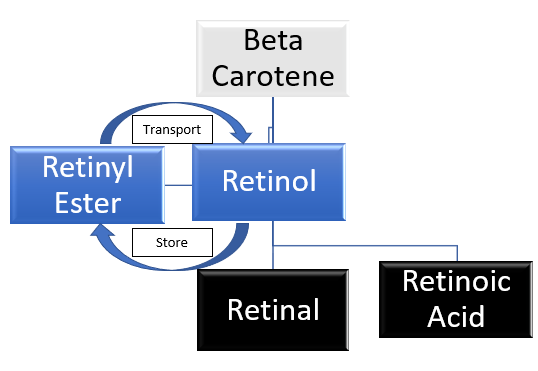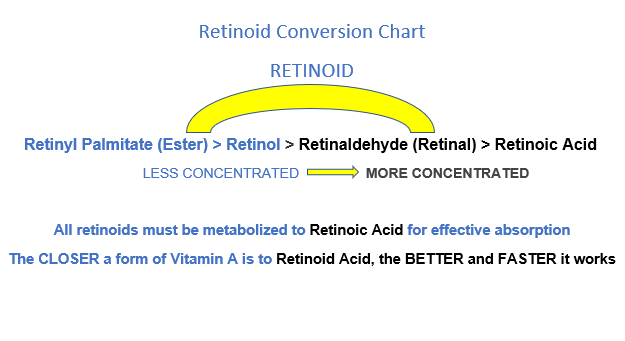 Forms of Retinoid
Retinyl Palmitate
Ester of Vitamin A
The weakest form retinoid
Takes longer to convert to retinoic acid
Forms: Found in OTC (over the counter) products
Retinol
Alcohol Based Vitamin A
Used for Specific Repair
Stimulates cell production to firm skin
Induces epidermal thickening
Better for long term tolerance
Reduces trans epidermal water loss (TEWL) to keep skin hydrated
Forms: Cremes, enhancers
Product: AGELESS Total Retinol-A Crème 1oz
Retinaldehyde
Also called Retinal
Best retinoid without a prescription
More controlled delivery of retinoic acid
Topical agent that accelerate exfoliation
metabolism of retinaldehyde to retinoic acid occurs only by keratinocytes, new epidermal skin that's formed to replace the outer layers of shedding skin This process is called Cell Renewal Factor
Increase skin elasticity
Forms: Serums
Product: Osmosis Pur Medical Skincare Renew – Level 4 Vitamin A Serum
Retinoic Acid
Used for General Repair
Better for short term tolerance
Prescribed in Tretinoin form (0.025%, 0.05%, 0.1%), Tazarotene, and Adapalene
Popular Brand names: Renova, Retin-A, Retin- Micro
Whew! Ok, I hope I broke it down enough to see the differences and the importance of Retinoids. Your current skin condition will determine which is the right one for you. Great addition to the Fall Season. Now that you know your options, choosing and agreeing to the most effective option should be easier for your desired skin goals.