by Judi Moise
|
Posted: August 18, 2021
|
Advanced Facial Potocals,Beauty Tips,Skin Condition,Skin Types & Conditions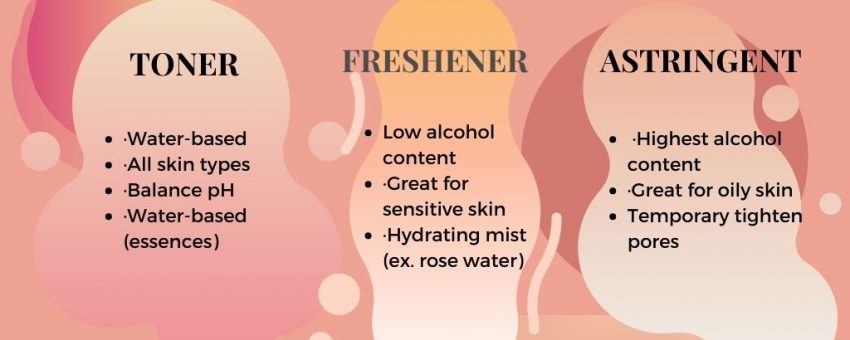 Watch your tone
One of the most neglected parts of a skincare routine is the use of toners. Toners remove residue left from make-up and debris on cleansed skin. It prepares the skin for better product penetration and balances the skin's pH. This will help protect the skin barrier from environmental stressors. The leading active ingredient in toners is Witch Hazel. It contains beneficial properties that:
Balance oil production
Reduce inflammation
Minimize bacteria (antimicrobial)
What is Witch Hazel?
Witch Hazel Hamamelis Virginiana is a small tree with golden yellow flowers found in North America. Since the early era, witch hazel is known for its healing properties for eye inflammation, burns, and colds. Today, witch hazel reduces compromised skin conditions to help bring the skin to a healthy state,
Toners, depending on the extraction process, will determine the alcohol content and blend. The best toners are recommended according to the skin type ad conditions
Toners:
Water-based
All skin types
Balance pH
Water-based (essences)
Fresheners:
Low alcohol content
Great for sensitive skin
Hydrating mist (ex. rose water)
Astringent
Highest alcohol content
Great for oily skin
Temporary tighten pores
The alcohol content is important in choosing the right toner. Astringent for example is better suited for oily skin. However, if too much natural oil is stripped, then it will trigger the sebaceous glands to compensate for the lack of oil. Astringents should be used sparingly to avoid dryness and a compromised skin barrier. A toner is recommended in between usage to keep the skin calm.
The type of alcohol differentiates the categories of toners
Low alcohol content (Toners & Refreshers):
These toners contain humectant properties to hold water
High alcohol content: (Astringent):
Ethanol
Isopropyl alcohol
These toners allow better product penetration for active ingredients.
Toner usage is the forgotten source of promoting and protecting skin wellness. Identify your skin type and condition (Week 1 of the Skincare Journey) and choose a toner that will promote corrective solutions. Ask your skincare provider for their best recommendation for you.