by admin
|
Posted: July 14, 2014
|
Get Obsessed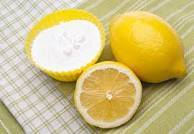 Here is a simple home recipe to brighten your face. This is gentle, yet effective and will leave your skin baby smooth.2 tablespoons of baking soda
1 tablespoon of lemon*Rub thoroughly on face and neck for 5 minutes. Best if used during or after shower since the pores are open.
*Rinse gently and BLOT dry.
* Finish off with your favorite moisturizer.
*If you really want to be obsessed with your skin. Use Coconut or Argan oil Enjoy!